NEO Launches Shift N81: A laptop and tablet hybrid with dual platform technology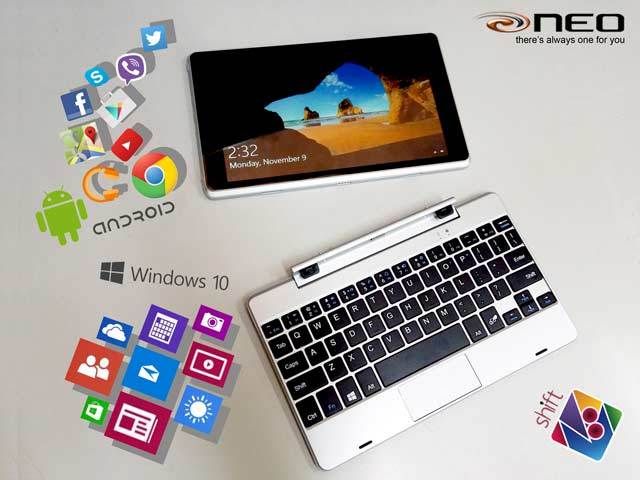 NEO, one of the local laptop brands in the market, recently launched its laptop and tablet hybrid with dual platform technology for an ease in performance and productivity. With Shift N81, play games and work on your files as you enjoy Android 4.4 Kitkat and Windows 10 interface in one device.
If you're the type of person who want to be trendy and professional at the same time, this gadget will best suit your lifestyle. With its 8.9" IPS Touch screen display and 16.2mm thinness, its sleek and trendy design can get you going, anywhere. Its detachable keyboard is really convenient.
NEO Shift N81 is powered by 1.33 GHz Quad-core Intel Z3735F Processor Baytrail platform which performs well and runs intensive apps and games. It also has 2GB RAM and 32GB Flash Storage that you can multi-task with your games and workload. The device, also, has a built-in sim card slot so you can access 3G and your social media sites.

It's connectivity and accessibility anywhere!
About NEO
NEO customizes and delivers products to satisfy a myriad of customer requirements, from home entertainment to business computing, making us one of the leading providers of notebook solutions in the Philippines. Headquartered in Ortigas Center, Pasig City, we conduct a growing nationwide business with our extensive network of valued resellers and distributors. Employing world-class technology from Intel and Microsoft and cost-effective standards-based processes, we strive to be a globally competitive brand known for quality products, services, and people.
For more updates, like us on Facebook: http://facebook.com/neocare
Website: www.neo.com.ph