Why Women Should Not Wear High Heels All the Time
A lot of women like to wear high heels not only because they're stylish but also because they obviously add several inches to your height and that's a good thing especially if you're petite. Furthermore, wearing one makes a woman look sexier and more confident. Stilettos are the gold standard in women's footwear for almost any occasion but high heels are oftentimes uncomfortable and can cause major problems for your feet and ultimately your budget because let's face it, they're quite addicting. The more you wear them, the more you want to buy another pair. Before you know it, you already have a closet full of shoes.
Having joint pain is one danger of wearing high heels. It lacks any notable shock absorption and stops the foot from naturally rotating as you walk. As a result, the knee absorbs the pressure of each step and therefore lead to acute joint pain. Experiencing lower back pain is another discomfort a woman feels when wearing high heels because it causes your pelvis to push forward as you stand or walk. Thus, immense pressure is placed on the lower back. A sprained ankle isn't uncommon either since it's quite hard to perfectly balance especially in stilettos. Over time, you'll also develop callouses.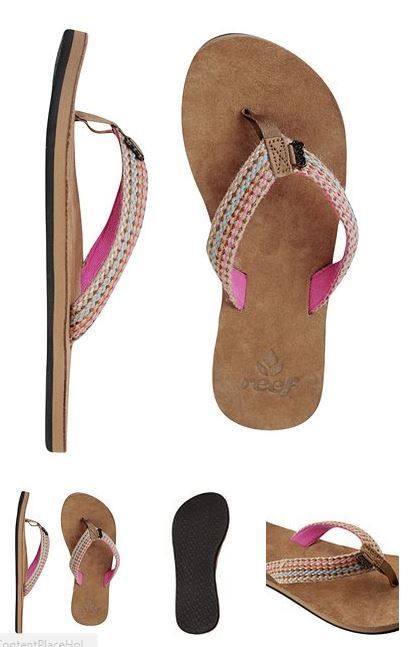 If you're wearing high heels for the first time, start off with wearing lower heels rather than high heels and never wear heels that're too tight. But if you're tired of those stylish yet uncomfortable footwear, high quality, affordable, and comfortable sandals and flip flops are the way to go. There're many different styles available at Reef, the environmentally conscious brand that takes comfortability to a whole new level. Shoppers will have a field day browsing their wide array of stylish sandals and flip flops for men and women. Their women's sandals are categorized into Classics, Leather, Rubber, Athletic sandals, and Fashion. I have my eye on a couple of them such as the reef Gypsy Love which has a multicolored woven strap with ultra soft terry cloth lining, soft suede leather footbed with anatomical arch support, rubber sponge outsole for flexibility, and durable rubber outsole with traction.
I also like the Miss J-Bay which has 51% post-industrial recycled triple density Eva footbed with anatomical arch support, ISA L.I.T.E (Low Impact To The Environment) full grain padded leather strap, ISA L.I.T.E. leather deck, and 25% recycled rubber outsole with icon tulip logo. This is ideal for casual trips to the mall. The other one that I would like to have is the reef Creamy Leather which is made of handmade premium leather from Brazil. It has full grain leather footbed with anatomical arch support, ultra soft full grain leather strap with knot detail, and durable rubber outsole. These sandals are really value for your money since you'll wear them for a very long time.